Design Process丨Genderloop
📌️ Starting Point

Genderloop是我在Emily Carr艺术大学为期一年的毕业设计项目。学校鼓励我们去做自己真正感兴趣的内容。我一开始有两个完全不同的方向:一个是设计针对成年人的订阅玩具(非情趣用品),另一个方向是设计一款可塑性强且能够自由组装的模块化系统家具。
Genderloop is a one-year graduation project in Emily Carr University of Art + Design. We were encouraged to explore what we are really interested. I have two directions at the beginning: design a subscribeable educational toy for adults and a flexible and self-growing modular organizing system.
因为之前的工作经历都与家具有关,所以我最终选择可以发挥更多想象力的玩具设计方向。
Since my previous work experience was related to furniture, I finally chose the direction of toy design where I could use more imagination.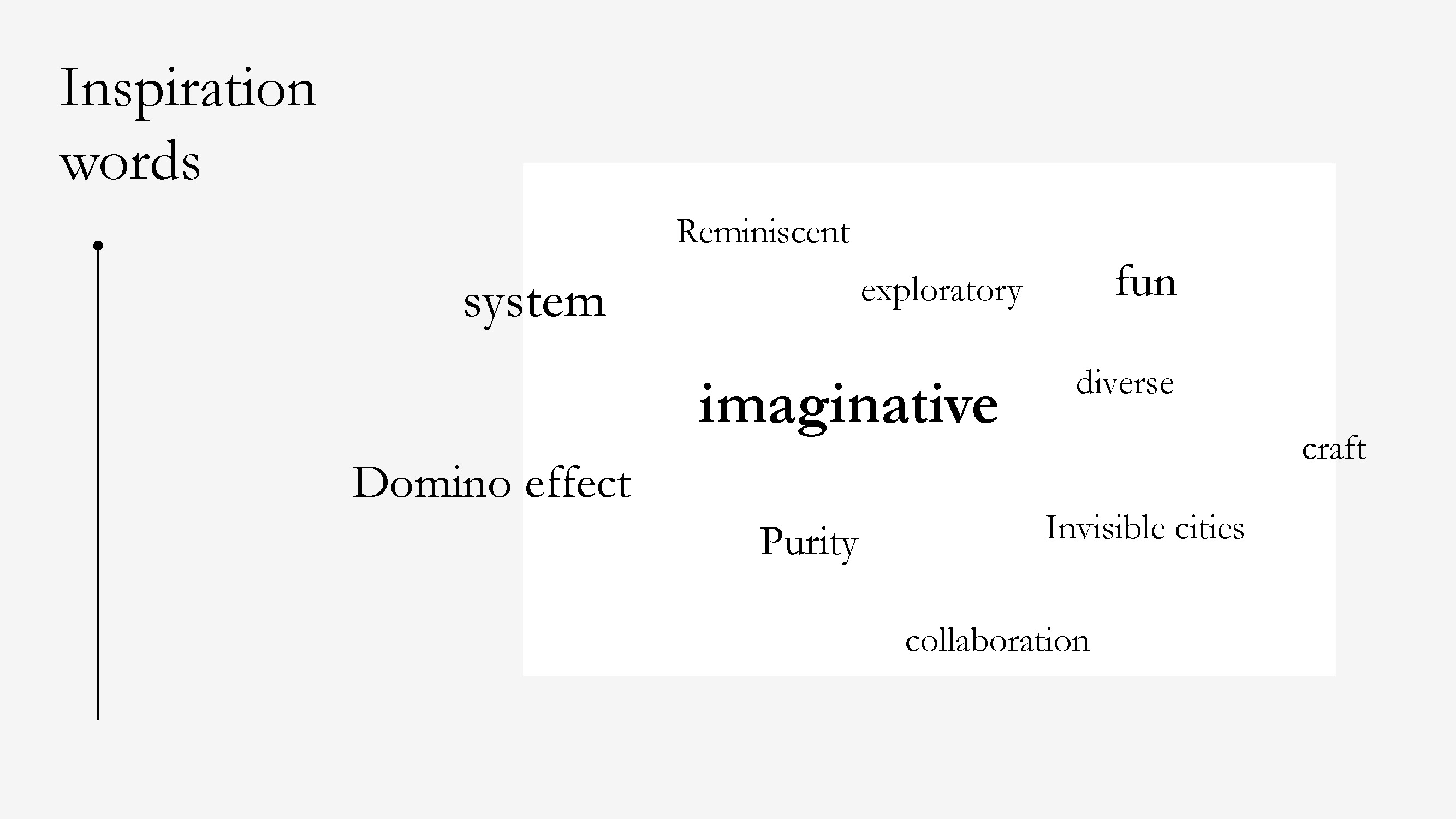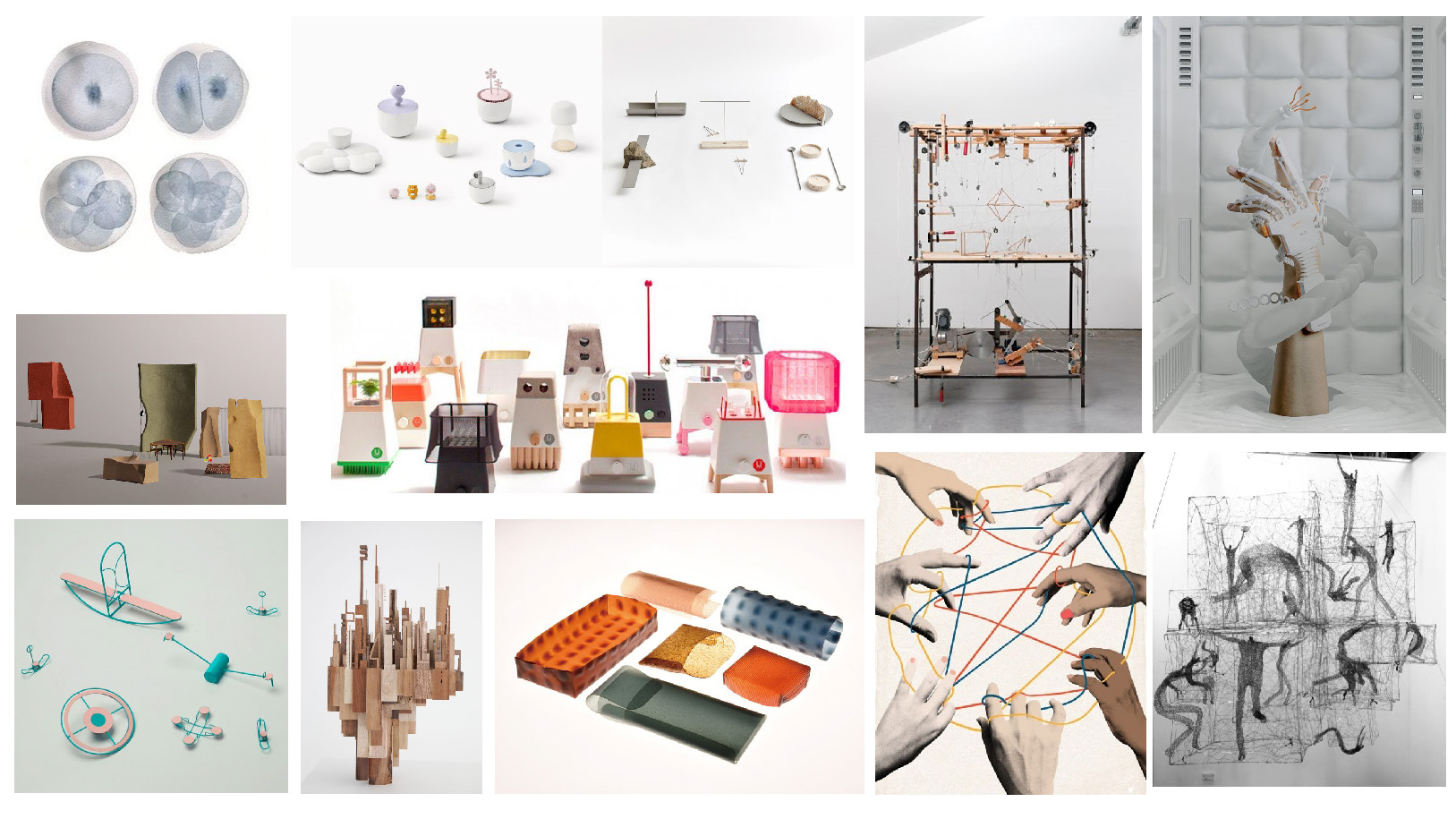 我最开始的想法是将杂志和玩具结合,将一系列的玩具成为订阅制,每个季度订阅者都能收到一件和一个社会议题相关的玩具,而这系列玩具都有一个相同的主题。只有到年底将所有玩具收集齐时,人们才能知道这个核心的概念。
My initial idea is to combine the idea of magazines and toys, so users will receive a toy related to a social issue every three months. And the toys in the series are all related to one core concept. Only at the end of the year, subscribers can figure out the main concept of the year.
我将我所关心的社会议题全都列举出来,做了一个思维导图。我意识到最能激发我灵感的是女性主义。中国有很长的父权制历史,文化和社会构建的意识形态禁锢根深蒂固。尽管"Me,too运动"在全世界范围内流行,中国甚至还有些倒退。然而这种父权制度不仅给中国女性有很多的限制,对男性也有很重的负担。我希望我能用这个项目来讨论性别平等。
I did some mind-mapping about social issues that I came to my mind. I realized the topic that attracted me most was feminism. China has a long history of patriarchy, and the cultural and socially constructed ideological confinement is even more deeply rooted. While metoo campaign is popular all over the world, China even has some counter-currents. And this patriarchal system not only puts a lot of constraints on Chinese women, but also burdens on men. So I would like to use this project to discuss gender equality.
和导师讨论过之后,我放弃了订阅制的这个想法。因为订阅制让概念变得太过复杂。
After discussing with my supervisor, Christian, I abondoned the idea of subscription, which made the design too complicated.
我继续做关于女性主义相关问题的头脑风暴。
I continued to brainstorm issues of feminism in China.
我尽可能阅读我所能获取到的文献、书籍和TED演讲。我在《全球性别差距报告》里发现了一些有趣的事实。加拿大和中国的排名有很大的差距,二者相差了83个国家。这也是我来到温哥华之后的亲身体验。在加拿大,男女的性别平等可以说是一个共识,目前加拿大的女性主义更多为性少数群体的权益在呼吁。而在中国,同性恋仍依旧是一个禁忌话题。
I read as many articles, books and TED talks as possible at this stage. I also found some interesting results from Global Gender Gap Report. There is a huge gap between Canada (rank 24th) and China (rank 107th). This is also what I can deeply feel after I came to Vancouver. In Canada, gender equality has become a common sense, and feminism is now more of a voice for sexual minorities, while in China, even homosexuality is still a taboo subject.
🚩️The Criteria
Entertainment + Empathy + Decorative
我发现我很难和我的男性朋友,甚至我的丈夫讨论女性主义相关的问题。在中国这是一个敏感话题。因为一些田园女权主义者的激进言论,中国男性甚至会对一些日常的性别歧视讨论情绪过激。如何让人们放下戒心,诚恳且开放地讨论性别平等呢?
I found it hard to raise up feminism topics with my male friends and even my husband. It is so sensitive to talk about it in China. Thanks to racial feminists, men get emotional each time people talk about sexism in the daily life. How can I get people to let down their guard and to discuss gender equality honestly and openly?
带着这个问题,我开始思考我的毕设。当我们想到游戏的时候,大部分人觉得那都是给小孩子们玩的,但是实际上,大人们也喜欢玩。当你觉得开心的时候,你会不再那么敏感,于是你就更能接受一些新的观点。所以我把娱乐性作为我的设计衡量标准之一。
With this question in mind, I started thinking about my project. When we think of play, most of us think of it as something that's reserved for children. But actually, adults also love to play. When you feel happy, you are less sensitive. Then you are easier to accept new ideas. So I think one of my criteria is entertainmet. My interactive objects must be playful.
我们受限于自身的感受和经验,所以共情也是很重要的标准。意识到性别差距,换位思考是行为改变的第一步。
We are limited by our senses and our own experiences, so in my design I want to bring in design methods of empathy. Recognizeing the gap between genders, and then thinking differently is the first step for behavior changes.
出于可持续性的考虑,我想要这系列的玩具也能成为家里的摆件,所以人们不会玩后即弃。
In terms of the sustainbility, I want the toys can be a home decoration, so people would not throw them away after they play them.
🖌️ Concept Development
定下了这三个标准,我开始做设计练习——强制联想法:将一个常见的游戏和一个性别相关的议题强制关联。这是一个有趣且具有挑战的过程。
With those three critierias, I started doing design exercises: forcing myself to combine a game with a gender-related issue. It is an interesting and chanllenging process.

︎ Body Shaming 身材羞辱

我第一个探索的主题是关于身材羞辱,或者说身材焦虑。在中国社会,无论男女对于身材都有一些特定的标准。人们以瘦为美,而对于男性还有身高要求。我希望能通过一个游戏来让人们质疑这些标准和自我羞耻感。
The first topic I explored is about body shaming/anxiety. In Chinese society, both men and women have certain standards for their bodies. People pursuit extreme thinness, and there is also height bias for men. I want people to question this standard and self-shaming through the game.

结合了海盗木桶叔叔的游戏,我用手工黏土制作了模型。我在每个小块的代表肥肉的部位上画上小的笑脸,想要传达出肥肉也可以很可爱。游戏规则的设计是想让玩家轮流抽走"小肥肉",当肥肉越来越少,或者不均衡的时候,小人就会倒下。象征着减肥过度对人体的伤害。
Combining with the idea of Uncle Pirate, I use air-dried clay to make it. I drew little faces on the fat and tried to convey the fat can be cute. The rule of the game is to let players take turns to draw away the "little fat". When the fat is getting less and less, or unbalanced, the figure will fall which symbolizes the damage of excessive weight loss to the human body.

但是肥肉还是很消极的概念,而模型的形状看起来也有些丑,让你很想把"肥肉"抽走。所以我改变了方向,决定将游戏换成抽积木(JENGA)。我用塑料泡沫制作了不同形状的圆形积木来模拟身体的外观,把它们切成条状。玩家同样是轮流把积木抽掉,当身材越来越细,越来越不平衡的时候,身体就会散架。
But it turns out fat seems negative, and the body shape looks ugly and you really want to get those fat off. So I changed my direction to jenga. I used foam to make different sizes of round blocks, and cut them instraight. Players also take turns to take out of blocks. The more blocks players take out, the less balanced the body is. At a certain point, the body will fall apart.

接着我做了更多的形态探索。把边缘倒角之后整体的身体形状有点像米其林轮胎小人。加了一个带有表情的头,希望人们看到能更好地联想到人体。而小人的表情正放是笑脸,倒过来是愁眉苦脸。
Explore more variations of the body shape. I rounded the edge to make this body, which reminds me of Michelin man. I add the head which can allow people to think of human body. Instead of regular faces, I drew the face which can represent different emotions by flipping it upside dwon.

但是我对于这个样子的呈现还是不太满意。
But I was not satisfied with the appearance.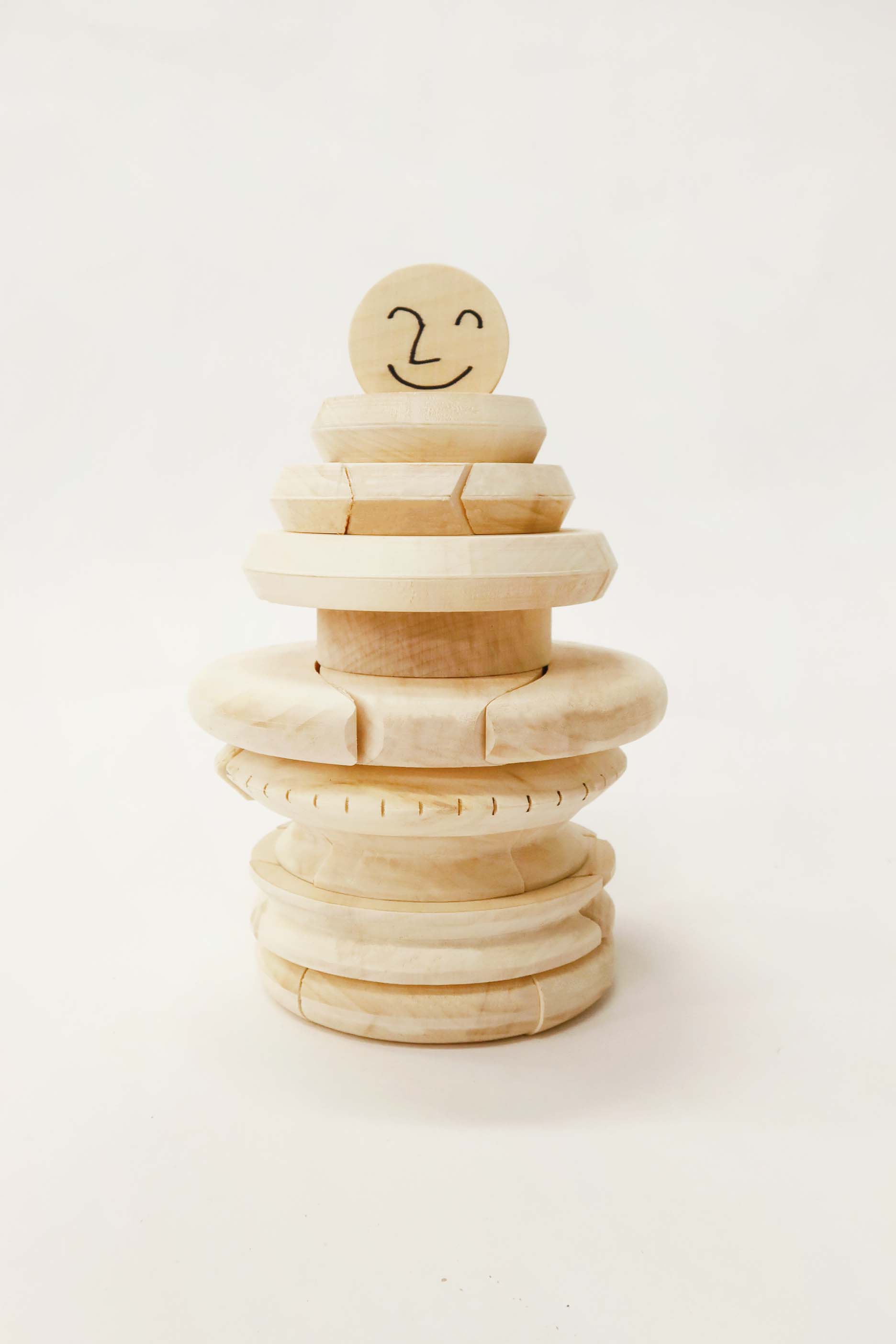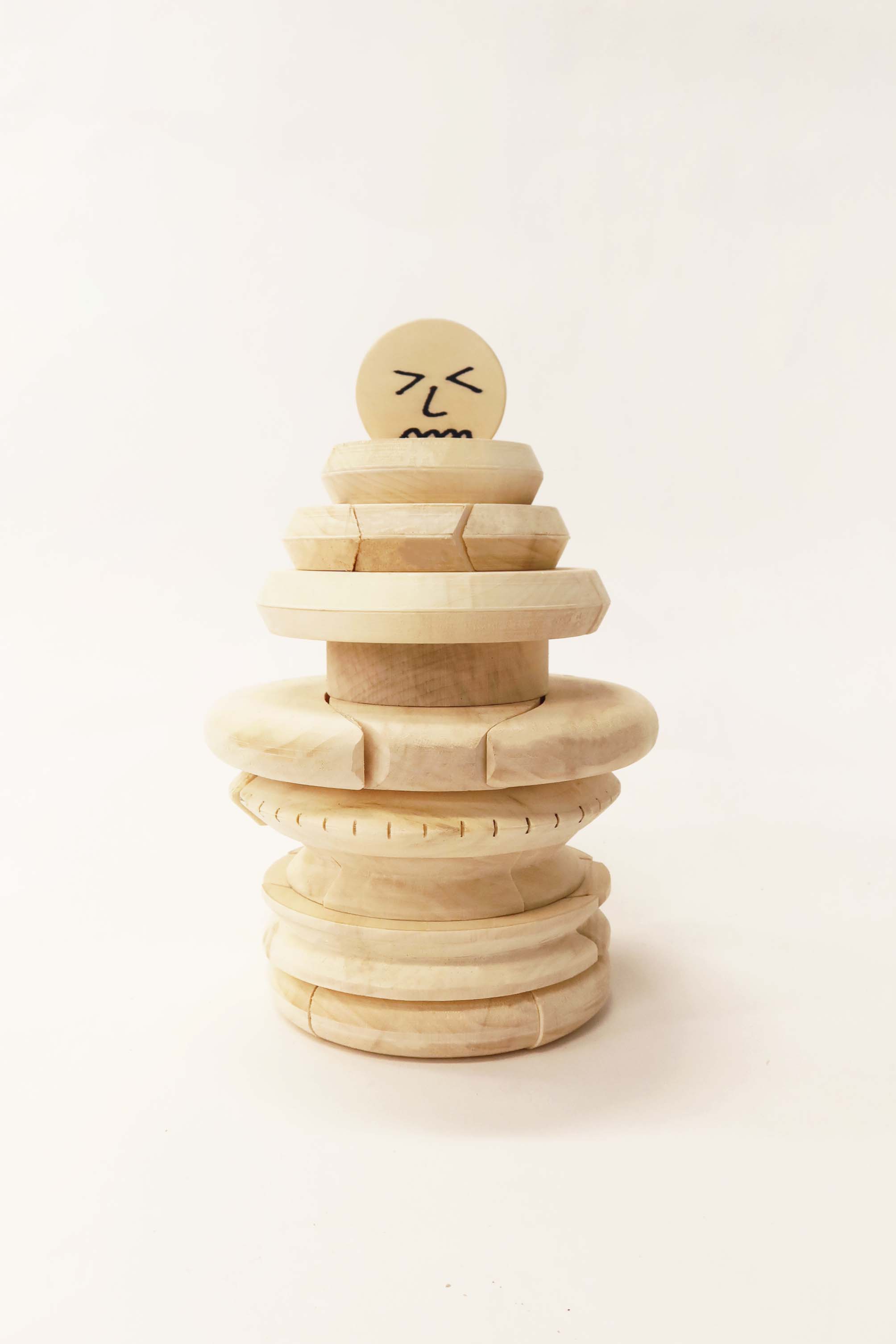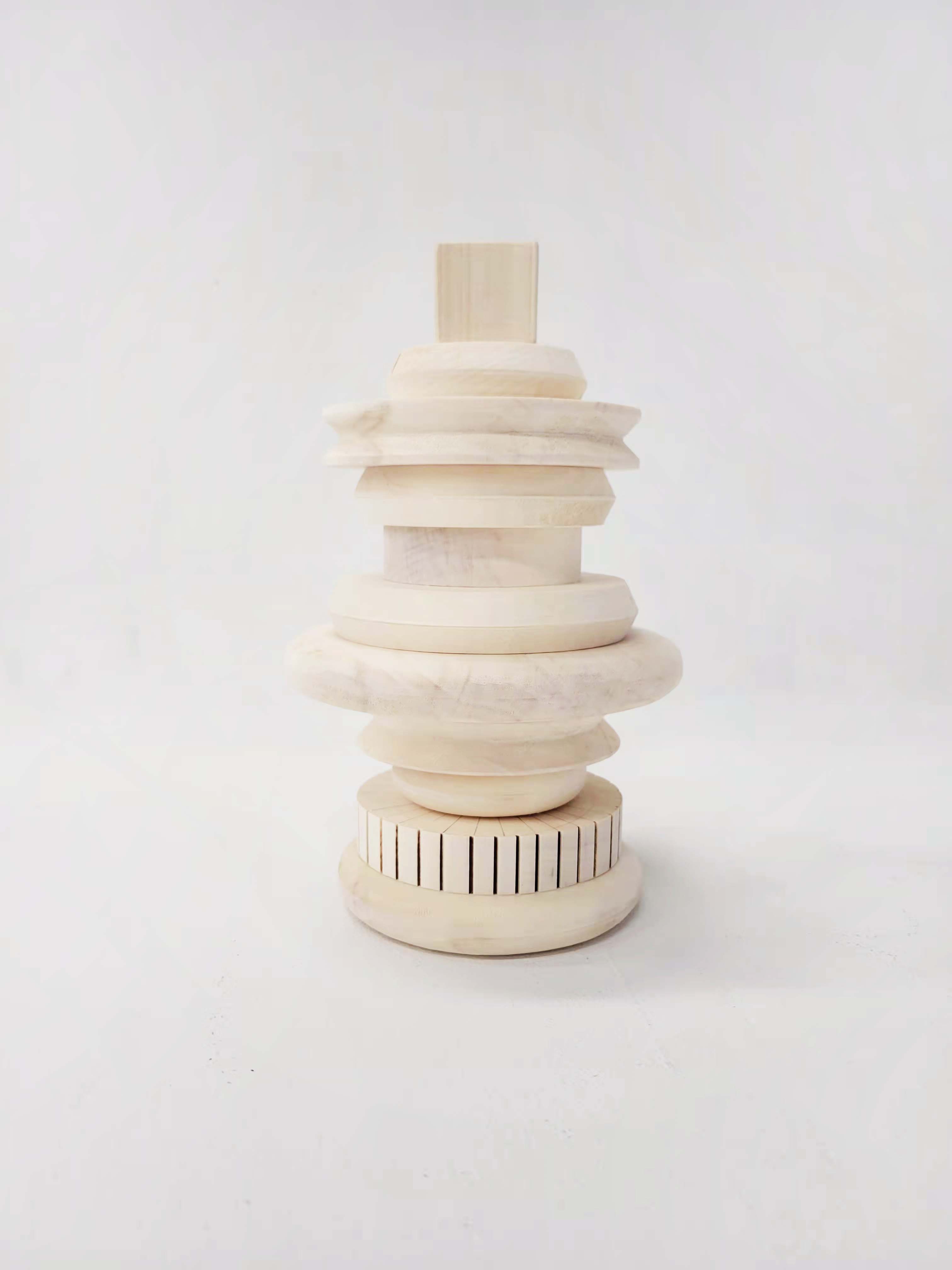 我探索了更多积木的设计,边缘做了多样的处理,让它看起来更具有装饰性且吸引人眼球,这样人们就可以摆在架子上。头部的设计也从原来的圆柱形到正方形到最后的硬币式样。一面是笑脸,一面是哭脸。
I played with the external shapes of the body to make it more like a decorative and eye-attracting object that can be put in the shelf. The design of the head also made a change. I explored different shapes and it turned out to be a coin-shape with two sides which has a smile face and a sad face.
最后设定的游戏规则是玩家轮流投掷"硬币脸",如果是笑脸,玩家要说出自己满意的身体部位,然后在人体积木上改造(增加或者抽出积木)。如果是哭脸,玩家则是说出自己不满意的身体部位,并抽出那个部位的积木。比如,"我喜欢我的肩膀"或"我讨厌我的腰部"。
The final rule of this game is that players take turns to flip the coin/head. If it is a smile face, you can add blocks to the body you like and if it is the sad face, you take away the part you don't like. Every time, you need to say out loudly the body part. For example, I love my shoulders or I hate my belly.

💬️ Bias Language